How do I know if I have power adjusters?
It is very important that you indicate whether or not you have power adjusters. If your seats have power adjusters we will need to make the appropriate cut-out based on what vehicle you specified. If your vehicle does not have any power adjusters, then no modifications will be made.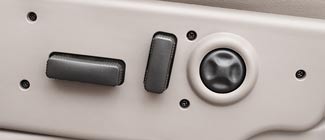 Check on the side of your bottom cushions to make sure. The power adjusters will be easy to see and are usually sticking out of the seat. The image to the side is a good representation of what your power adjusters may look like.
Please note
Some power adjusters are built into a plastic plate.
If you accidentally choose the wrong option here, dont worry! You can go back and correct it.
If your are still unsure then please contact us and we will help you out.