Many Northwest customers are proud owners of the trucks they drive, they go in for servicing, oil changes and car washes, but the condition of the seats and upholstery are the last things they think about. Whether the trucks were being used by the DOT, Municipal Maintenance, Construction or Contractors, they're all thinking the same thing - How do I keep my Seats Clean?
Northwest - Charting our own Path
Now, we could write another 300 words on how great our Cordura Seat Covers are and tell you how waterproof seat covers are at protecting the front or rear bench seats or how they can be really good dog seat covers, but that's what everyone does and we're not like everyone else. Instead, we want to share our Cordura Journey with you. We want you to understand that, Yes, Cordura offers a really good line of fabrics, but we want you to understand how we worked with them to take a very good fabric and make it better for Seat Covers.
Well, we've introduced many different Work Truck Materials over the years and we wanted to take our innovative approach to fabrics and see if we could work with the folks at CORDURA® to create enhanced variations on their High Performance fabrics; after all, the considerations for manufacturing Seat Covers for Trucks is a bit different than making backpacks.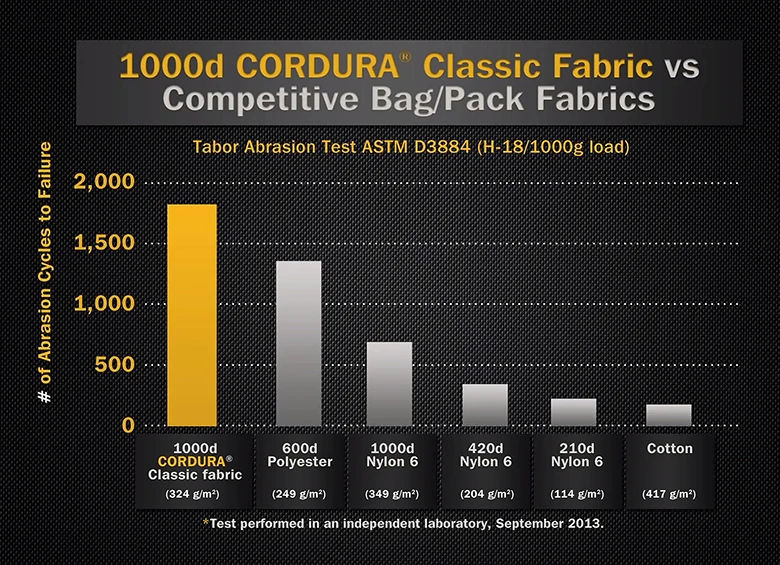 Improving Waterproof Performance
The technical representative at CORDURA® worked with the textile engineers at our fabric mill to ensure we complied with their quality standards as we developed an Advanced version of their Classic 6.6 Nylon fabric. Durability and Abrasion was not an area we could easily improve upon, so we focused on creating the Best Waterproof Seat Covers, but with a degree of flexibility. Most "waterproof" fabrics have a DWR (Durable Water Repellent) coating on the top surface with a Polyurethane coating on the underside of the fabric. An expensive ski jacket features both of those coatings, but over time, the DWR is worn away when abrasive rubbing wears away the top surface DWR coating, leaving the only waterproof barrier at the underside of the fabric
Creating a Better Customer Experience
We wanted to find a way to add extra value and that made us think of how GORE-TEX® approaches waterproofing through a multi-layered approach. So, instead of having 2-layers, like everyone else, we decided to offer customers a 3X Waterproof Protection Option. Ok, so we solved that aspect of protection, but we still had one more item on our Wish List and that was to find a way to have the CORDURA® Nylon be a little more forgiving and easier to install. We all agreed that by introducing a modified mix of yarns with Cordura's 6.6 Nylon, it would allow the new fabric to mold around the contours of the backrest bolster areas more effectively.
Summary of How we Improved the Performance and Fit of our Cordura Custom Seat Covers
By working with the Cordura Team, we took their Classic Nylon fabric and made it a lot more seat cover friendly;
We Improved the Waterproofing by 50% when we upgraded the 2X waterproof protection to a 3X version of the fabric.
We also changed the material composition by mixing the nylon with a dynamic yarn that would be more forgiving and produce a better fitting seat cover that was easier to install.
Our Cordura Custom Seat Covers are made to last. Whether you are looking for a long lasting seat cover or a durable compliment to your factory interior, you can count on Waterproof Seat Covers from Invista's line of Cordura fabrics to get the job done!
Please note: CORDURA® is a brand of fabric within the Invista portfolio of fabric brands such as Dacron® and Antron® etc.
Installing Cordura Seat Covers seat covers is extremely simple. Since your cover will be a perfect fit to the vehicle information you provide us with, installation will require nothing more that some careful manoeuvring of your fabric onto your seat.
Do not hesitate to browse our installation section for further information.
No tools required !
All orders within Canada will be shipped by Canada Post, UPS, DHL or Purolator. All orders within the U.S. will be shipped by UPS. Production time is 3 - 4 days. Shipping & Delivery time is generally 3-6 business days anywhere in North America. Freight charges will be added to the invoice.
Please read our shipping page for further information.
Our Seat Covers come with a 2 years warranty for workmanship & normal wear. We will replace any sections that have worn due to normal use or material defect free of charge.
Please read our entire warranty section for further information.